For a long time, people investing in physical gold and silver as the best protection against inflation and economic uncertainty. Gold and silver are considered prized assets with intrinsic value. Investing in gold and silver offers you better returns in the future because the price of these precious metals appreciates even during recessions. The prices for gold and silver are relative. However, one precious metal can outperform the other based on the prevailing circumstances.
The prices of gold and silver are influenced by the performance of the U.S dollar, interest rates, inflation, and political uncertainty. In this publication, we share with you why you should invest in precious metals, and the best way to invest in gold and silver.
The Gold price is least affected by the rise & fall in demand and supply due to its outweigh by sheer size. Said when hoarders decide to sell, the price falls. However, supply will soar when they want to purchase.
What Are The Benefits of Investing in Gold And Silver
Gold and silver are worthy investments because even today they have an intrinsic value and perform well during depressions and economic turmoil. Below we share with you the main reasons why you should invest in gold and silver.
1. Gold And Silver Have a High Demand
Gold and silver are valuable commodities in different industries. It makes the demand for the two precious metals remain high throughout the seasons. Furthermore, the mining industry is experiencing a decline because mining companies don't take up as many projects as they used to.
Reasons contributing to the decline include safety reasons, environmental factors, and economic uncertainty. Nevertheless, the demand for gold and silver remains high, especially in the fashion industry.
2. Safety against Inflation
Inflation does not erode the value of gold and silver as it does with other commodities. For instance, inflation causes declines in currencies, but gold and silver have intrinsic value that hedges them against uncertainty. They either appreciate or retain the same value during economic depressions. During a period of economic crisis, many doors are open for investors to invest in gold. For instance, during the covid-19 pandemic, the report shows that many investors are attracted to investing in precious metals for financial security.
3. Precious Metals Have a High Liquidity Rate
Precious metals like gold and silver have a high liquidity rate compared to other types of investment. This means converting gold and silver into cash when you need it is super easy anywhere in the world.
4. Physical Assets with Intrinsic Value
Physical assets with a high intrinsic value like gold and silver protect you from uncertainties like market crashes, fraud, and internet blackouts among others. Furthermore, assets like gold and silver can be shipped and stored safely in times of emergency.
5. Secure and Private
Most middle-class investments like stocks and bonds are bought through third-party investment institutions. Before buying or selling your investment, you need permission from a third party. Investing in gold and silver gives you access to your wealth any time you want. You can liquidate or buy more.
6. Diversify Your Portfolio
Buying gold and silver is an effective way of diversifying your portfolio. It spreads the risk and offers you additional protection against other investments.
How You Can Invest In Gold and Silver
There're several ways of investing in gold and silver. We share with you the most popular ways of investing in precious metals before recommending the best ways of buying gold and silver.
1. Buy Physical Precious Metals
Physical gold and silver are sold by weight for investment purposes in form of bullion coins and bars. If you're interested in buying physical silver and gold for investment, you can do that at Bullion Trading LLC. We offer real-time market prices for physical gold and silver. Investing in physical gold and silver gives you an edge because you can have your precious metals delivered. Unlike stocks and bonds, gold and silver may be bought as tangible assets, either as American Eagle coins maintained in a retirement account or as bars and coins held in a Morgan Stanley brokerage account.
2. Investing In Gold and Silver ETFs
Exchange-traded funds are popular among investors interested in diversifying their stocks. Gold ETFs allow you to buy shares in an existing gold or silver stock without physically owning the precious metal. They're paper assets like stocks and bonds. You don't handle or store the physical gold and silver.
3. Purchasing Mining Stocks
Investing in the stocks of a mining company may give you the security that comes with investing in silver and gold. At the same time allowing you to reap the benefits that growth in inequity provides. However, investing in mining stock comes with more risks compared to physical bullion because of the capital appreciation associated with equities.
Main Reasons for Investors and Buyers to invest in physical gold and silver
Gold and Silver Provide Stability in Volatility:
The majority of people are worried about the market volatility of the stock market. So, the rise and fall in the stock market influence the investor either to invest or to sell the bullion product effectively. However, bullion product has the opposite relation with the stock market. It determines when the stock market soared and Bullion fell. Hence, Bullion helps prepare you for such disasters by acting as a hedge against economic unpredictability. Buying physical gold and silver is a safer asset that tends to be better during market volatility.
It Helps to protect your Investment:
While investing in physical gold and silver bullion allows you to protect your investment in defensive measures against uncertainty and an offensive reward when other assets decline. Bullion is identified as a pillar due to its high staying power. While in a period of economic crisis, fiscal and monetary are at increased risk, the bullion is at perks. The more the fear, the greater the demand for safe-haven assets and the higher the price of gold and silver.
High-Class Performing Asset:
It has been a long year since gold is not used as currency. However, precious metals hold high value for many upcoming generations. As per the report, gold has been well-known as a class asset since 2000. Also, if you look at the past performance, the purchasing power of gold has been steady during inflationary times. That is why you must be investing in precious physical metals.
It helps to Protect and hold Value:
Due to the market crises in 2008, the sales from global central banks decreased while the price for gold and silver was at the top level. As per the rule, when the supply of gold goes down continuously, it increases the gold price. Investors' demand for gold has also increased. Even after the COVID-19 pandemic that devastated the financial world, the gold price regained 25% in 2020, according to investor demand.
Silver's price has halved over a decade from $ 46.60 to $ 23.37. Since March 2020, the cost of Silver has been steady, which opens up opportunities for many investors because there is a high chance of reaching the price of Silver at its best in the coming future. You can be even more apparent after seeing below the gold and silver historical chart that Silver, like gold, is likely to see further growth despite limited supplies.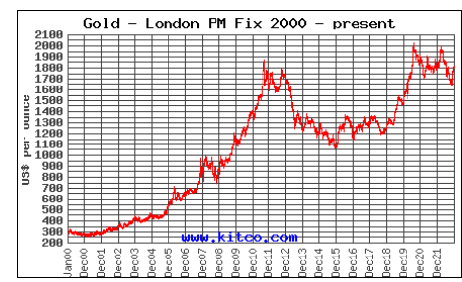 The price of Silver is lesser than gold which is an opportunity for investors to own physical assets, i.e., precious metals.
The Verdict
It's prudent to invest in gold and silver right now because these two precious metals provide the best hedge against inflation and economic risks. The ongoing COVID-19 and the Russian invasion of Ukraine have contributed to recessions and inflations in global economies. Investing in physical silver and gold secures your investment compared to paper metals. In addition, physical precious metals can be delivered to you for safe storage.
Buying Physical Gold And Silver From Bullion Trading LLC
Bullion is well-known gold and silver dealer in New York City, USA which is trustworthy and serves the products effectively, If are thinking of investing or buying any precious metals or have any questions related to gold and silver then, we are right there for you. You can directly, call us at 646-362-3536 or Email us at: Isaac@bulliontradingllc.com.
Frequently Asked Questions(FAQs)
Why Should I Invest In Gold And Silver Right Now?
Investing in gold and silver right now is a good idea because they protect you against inflation and economic uncertainty. The ongoing pandemic and wars have contributed to recessions and inflations. People are now buying more physical gold and silver to hedge themselves.
How Can I Invest In Gold And Silver?
You can invest in gold and silver in two ways. You can buy physical gold and silver or paper versions like ETFs and shares of mining companies.
What Forms Of Physical Gold And Silver Can I Invest In?
You can buy gold and silver in the form of bullion coins and bars. The price of bullion products is determined by weight. Investment grade silver and gold come in different coin and bar sizes ranging from a ¼ of an ounce to 1 kilogram.
Which Is Better-Paper or Physical Gold and Silver?
Only physical gold and silver offer you effective protection against economic uncertainty. Paper versions like ETFs and shares are affected by inflation and economic turmoil.
Where Can I Buy Investment-grade Physical Gold and Silver?
Gold and silver for investment can be bought from a trusted dealer like Bullion Trading LLC based in New York, City. We sell different weights of gold and silver bullion at current market prices.
Is physical gold a good investment?
Yes, the value of gold is always maintained for an extended period Whereas, the demand for gold will never be down. Additionally, it is safe against inflation which protects precious metals from uncertainty. And, Investing in gold helps you to optimize your portfolio effectively.
Does physical gold lose value?
According to the historical graph, several times, economic value has been drowned due to various market crises, but the value of gold still does not suffer much negative impact. Even inflation cannot affect the value of physical gold as they either appreciate or preserve its value.
Is buying physical silver worth it?
Buying silver is worthwhile as it assists in boosting your portfolio. It can impact long term, especially during periods of uncertainty.
Will gold and silver ever lose value?
Other markets easily get affected by the market crisis, while gold and silver never get impacted by such disasters because these precious metals hold intrinsic value.